QEWC Subsidiary Companies
---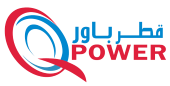 QPOWER Q.S.C. (the Company) is a joint stock company established on 5th Jan. '05 pursuant to Article 68 of the Commercial Companies Law No. (5) of the Year 2002.
---
The shareholders are:

· Qatar Electricity & Water Company Q.S.C. 55%
· GDF SUEZ Energy International. 40%
· Chubu Electric Power from Japan 5%

---
The Board of Directors comprises of six Directors chaired by Mr. Fahad Hamad Al-Mohannadi.
The object of the company is to provide water and electricity to the State of Qatar in a safe, environmentally clean, efficient and reliable manner. This is an approximately US $ 1,000,000,000 facility, financed by reputed international, regional and local banks.
The Plant, located at Ras Laffan Industrial City, has a capacity to produce 1025 MW (Mega Watts) and 60 MIGD (Million Gallons per Day). This landmark project is presently the largest Independent Water & Power Project (IWPP) in the State of Qatar which consists of three gas turbines, two steam turbines, four distillers, related pipelines and infrastructure.
The engineering, procurement and construction contract was awarded by the Consortium to Germany's Siemens AG who have supplied equipment for electricity production and Korea's Doosan who have supplied the equipment for water production. The equipment and technology is the latest and state of the art with V94.3A(4) Gas Turbines and Doosan's 15 MIGD (MSF) Distillers. The project is in line with the continual and fast increasing demand of the power and water in Qatar which has one of the fastest growing economies in the world. The Plant is operated only by sweet, environment friendly natural gas, of which Qatar has the third largest reserves in the world, supplied by QatarEnergy.
The project started commercial production of power in May 2006 and water in September 2006. As scheduled, we achieved full capacity in June 2008. As per the Power and Water Purchase Agreement (PWPA), the Company exports power and water to KAHRAMAA for a period of 25 years, with a possible extension by a further five years.
---
Office
Address:
Qatar Navigation Tower,
43rd Floor, Al Maysaloun Street,
Zone 63 West Bay,
Building 11, Street 860,
Doha – Qatar
Ph: +974-44996352
Back Title
This is where the text for the back of your card should go.
Ras Laffan Site
QPOWER power plant is located 100 KM from Hamad International Airport and takes 1 hour and 30 minutes to drive. Address: Qatar Power Company Ras Laffan Industrial City, Ph: +974-44996315
Back Title
This is where the text for the back of your card should go.