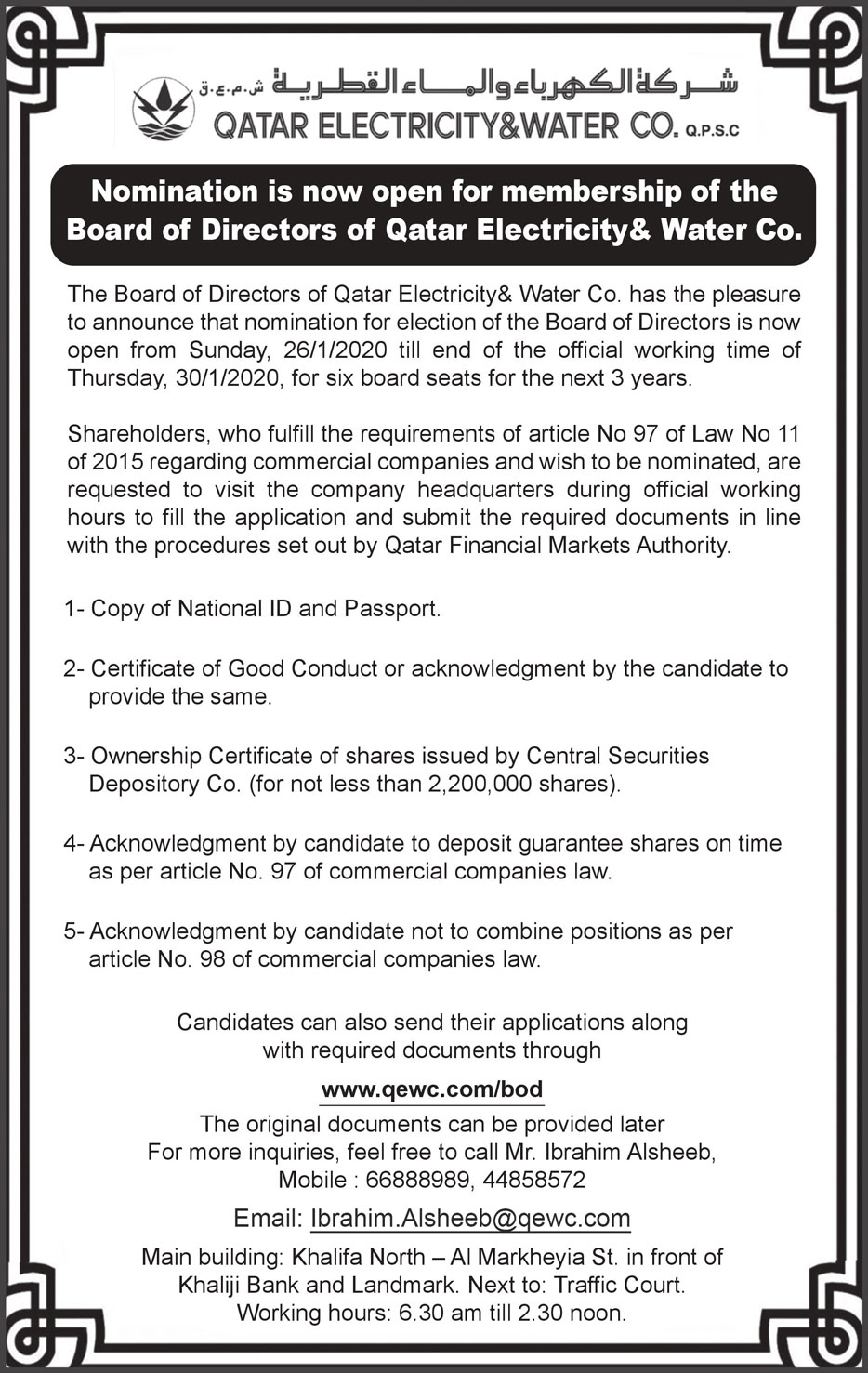 The Board of Directors of Qatar Electricity& Water Co. has the pleasure to announce that nomination for election of the Board of Directors is now open from Sunday, 26/1/2020 till end of the official working time of Thursday, 30/1/2020, for six board seats for the next 3 years.
Shareholders, who fulfill the requirements of article No 97 of Law No 11 of 2015 regarding commercial companies and wish to be nominated, are requested to visit the company headquarters during official working hours to fill the application and submit the required documents in line with the procedures set out by Qatar Financial Markets Authority.
Copy of National ID and Passport.
Certificate of Good Conduct or acknowledgment by the candidate to provide the same.
Ownership Certificate of shares issued by Central Securities Depository Co. (for not less than 2,200,000 shares).
Acknowledgment by candidate to deposit guarantee shares on time as per article No. 97 of commercial companies law.
Acknowledgment by candidate not to combine positions as per article No. 98 of commercial companies law.
Candidates can also send their applications along with required documents through www.qewc.com/bod
The original documents can be provided later.
For more inquiries, feel free to call Mr. Ibrahim Alsheeb.
| | |
| --- | --- |
| Mobile: | 66888989, 44858572 |
| Email: | Ibrahim.Alsheeb@qewc.com |
Address: Main building: Khalifa North – Al Markheyia St. In front of Khaliji Bank and Landmark Mall. Next to: Traffic Court. Working hours: 6.30 am till 2.30 noon.